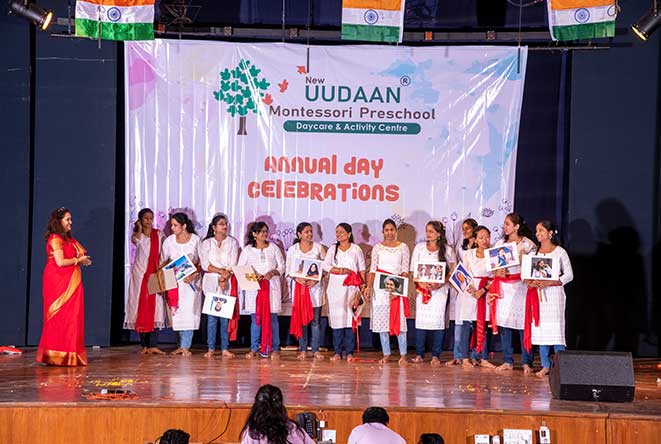 Uudaan Montessori Preschool, is head-quartered at Thane, in the heart of the city, Mumbai; maintaining a high-quality learning atmosphere for Young-Minds for the age between 2 years to 6 years. Our core focus is on exercises that develop each individual to concentrate, be self-disciplined, self-motivated and follow a system of order that helps him/her to stay well focused, become spontaneous and able to utilize their capabilities through focused learning.
Our Vision
Creating a space for each individual, experiencing freedom & independence with discipline; to prove their inner potentials & capabilities with the innovative & proven montessori method
Our Mission
To create and sustain an optimum learning through hands on experiences to realize their inner potentials and quest for learning and to become independent, self-motivated and a well-balanced human being.

To help fostering a love for learning.

Learn to respect racial, ethnic and cultural values.
To recognize that personal growth involves responsibility toward others and toward the nature.

Learn to respect racial, ethnic and cultural values.

Facilitating the involvement of parents, grand-parents, educators and students to focus and understand the importance of Early Childhood Education.
Admission Procedure
Our school operates in 2 (Two) Batches.
First Batch: 9:00 AM to 12:00 Noon
Second Batch: 12:30 PM to 3:30 Noon

Toddlers/Infancy Programme

Mont Level-1

Mont Level-2

Mont Level-3
What Makes Us Unique?

Uudaan Montessori with experience has discovered that education is a natural process which develops spontaneously in young-minds; given total independence, Freedom with DISCIPLINE that structures oneself to become Independent, Secured, Balanced and a Responsible Human Being